Bibi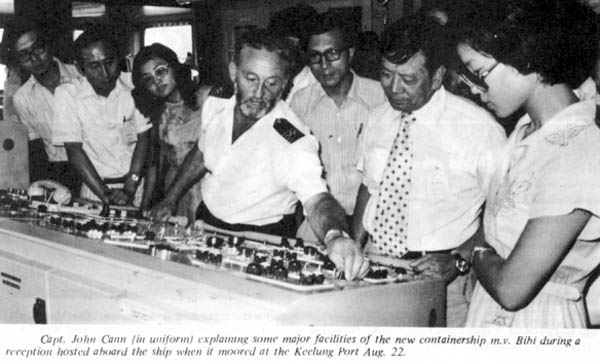 Mexican Line Sends New Ship to Bolster Service to Taiwan
In a bid to bolster its service between Taiwan and Latin America, Mexican National Line (TMM), despatched one of its three new full containerships, m.v. Bibi, to Keelung Aug21 (1979), to ship Taiwan-made cargo to Latin America.
To mark the shift from semi-container service to full container service, the Mexican line hosted a reception aboard the 18,930-dwt Bibi when it docked at Keelung Port Aug.22. Some 30 local exporters were invited to attend the reception and visited major facilities of the vessel.
The new containership is 178 metres long, 26.5 metres wide and has a cruising speed of 20 knots. It can carry 816 TEU's.
The Mexican line will send two similar containerships to serve the same route in the succeeding months, according to Everett Shipping Agencies Limited, TMM's agent in Taiwan.
Call Everett at 414-8111 (10 lines) for details.
SEPT. 1979
---