Vancouver City (3)
The Vancouver City was built by Upper Clyde Shipbuilding Ltd. at the Govan Yard and was Yard/Hull No.840. This was the first of the seven 840 class vessels built for Reardon Smith.
| | |
| --- | --- |
| 1970 | Delivered to Reardon Smith |
| 1979 | Stasia |
| 1987 | Male. Cyprus flag. |
| 1995. | Male 11. Panamanian flag |
| 1997. | Broken up in India |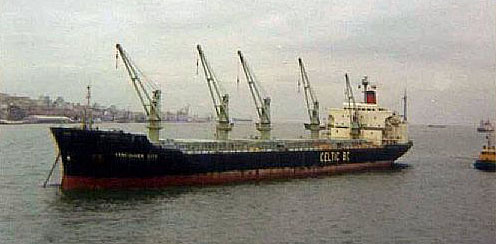 Copyright © Nigel Whitby, Paul Strathdee Collection
Maiden Voyage:
Captain: J.H.J.Thornhill, C/O: R.A.H.Vanner, 2/O: K.Jones, 3/O: B.R.Reynard, R/O's:  D.C.Short, D.S.H.Thomson, C/E: T.Sukiennick, 2/E: M.C.Barrall, 3/E: C.Gateshill, 4/E: E.Hume, J/E: P.J.Morris, J/E: D.Martin, Elec: A.G.Lee, C/S: R.A.Peach, Nav Cadets: D.G.Morgan , J.Paton, Engineer Cadet: M.R.Green.
There are one or two errors in this list that I would like to correct.
The 2/E was Dave Dyer who was relieved by Mike Barrall during the trip. When, I don't recall. We assumed he was going C/E on one of the newbuildings. Nick Shilstone was 4/E. The missing J/E must have been a guy called John Kenyon. He asked about the maiden voyage on the Forum under 'Vancouver City maiden voyage' dated 13 November 2011. He apparently paid off in Italy after only three or so months and it is possible that Eddie Hume relieved him. I seem to recall a short, dark haired bloke from Edinburgh and that could be Eddie. Mo Green is listed as Eng. /App but there was another young fellow there called Michael Hannaford.
It would appear that the crew list was announced possibly 4 months after we left Glasgow. Colin Gateshill. Sent in 17 May 2012.
Just want to say that the Officer List shown above was after a change in Trieste.
The originals were: C/O J McNulty, R/O Stan Whitmore, 2/E Dave Dyer, 4/E Nick Shilstone and J/E J Kenyon. David Thomson. Posted on Forum 15 October 2013.
---
Vancouver City. Page [1] [2] [3] [4]
Memories from RSL staff. [1] [2] [3] [4] [5]