King City (1)
Built in 1905 by Bartram and Sons, South Dock, as Quarrydene for London & Northern SS Co Ltd., London (Pyman Bros.)
2883 gt: LBP 100.9m: Beam 14.6m Service speed 9.0kts
| | |
| --- | --- |
| 1905 | Quarrydene, London & Northern SS Co Ltd., London |
| 1917 | Quarrydene, St.Just Steamship Co., London. |
| 1918 | King City, St.Just Steamship Co., Bideford. |
| 1927 | Anastassia, Livanos Bros., Chios, Greece. |
| 1930 | Anastassia, John G.Livanos, Chios, Greece. |
| 1932 | Anastassia, Panos A.P.Protopapas. Chios, Greece. |
| 1936 | Anastassia, C.Choremis, Hydra, Greece. |
| 1940 | Attacked and sunk by Italian u-boat, Veniero in 54.24N:18.04W on 18th December on passage from Newcastle, New Brunswick to Sharpness with a cargo of timber. Officers and crew were mostly British, of whom 13 were lost and are remembered on a Tower Hill plaque. Several were from Liverpool. |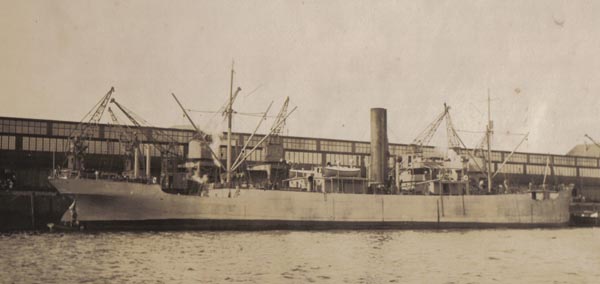 King City 1918 to 1927.
The Quarrydene, was one of eight, similar vessels, purchased by W.R.Smith & Sons, in 1917, soon after a major reorganisation of the company. All eight vessels were registered within the St.Just Steamship Company. The ships had belonged to the London and Northern Steamship Co.Ltd, which was a branch of the Pyman, Watson group, with whom, Sir William Reardon Smith had known connections.

WW1 was still in progress, and within a short time of this bulk purchase, four of the vessels suffered casualty as a result of the hostilities: they were the Claughton, Normanby, Fallodon and the Quarrydene. All four survived those attacks, but by the end of hostilities in 1918, the Fallodon, Esrick and Runswick had been lost.

The eight ships concerned, certainly carried their original names for the remainder of the war, and it is most probable that the remaining five, were not renamed immediately after the end of hostilities, for reasons of financial expedience.

A problem that we, like others before us researching the company history, is that due to a fire in the Company Offices, during WW2 (not as a result of the hostilities), a large part of the company records were destroyed. However, in respect of the Quarrydene, we do know that she had been renamed King City, by November 1919, since she arrived in New York, from Newport, South Wales, on the 30th of that month.
---
King City. Page [1] [2]
Memories from RSL staff. Page No.[1] [2]