Cardiff City (2)
Built in 1975 by Hayashikane at Shimonoseki as Jade City for Grand East Carriers Inc., Monrovia.
17203 gt: LBP 165.0m: Beam 25.1m Service speed 14.5kts.
| | |
| --- | --- |
| 1975 | Jade City. Grand East Carriers Inc. Monrovia. |
| 1975 | Cardiff City. Reardon Smith Line Ltd., Bideford. |
| 1983 | Eastern Valley. Eastern Valley Shipping Pte Ltd., Singapore. |
| 1985 | East Express. Dolphin Shipping Management Inc., Manilla. |
| 1987 | Glykofiloussa. Toplight Shipping Ltd., Limasssol. |
| 1988 | Singa Wilstream. Willstream Shipping Corp., Monrovia. |
| 1991 | Lassia. Lassia Shipping Co. Ltd., Valletta. |
| 1993 | Lassia. Highlander Marine Co. Ltd., Limassol. |
| 2001 | Broken up at Chittagong. |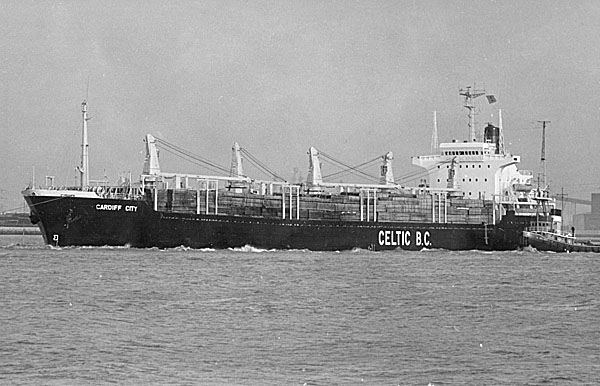 Cardiff City 1975 - 1983.
Capt. Lemon and Eric Poingdestre went to Hong Kong and agreed on the building specification for the Jade City and the Pearl City as Grand East Carriers Ltd were having them built in Japan and then they were to be time chartered by Celtic BC.
Before building was compled RSL then arranged to buy them as the owners had changed their mind.
The two vessels went on sea trials at Shimonoseki and were accepted by the Hong Kong owners. Eric was on board as an observer for RSL.
They were painted in the colours of the original owners.
The ships were then brought around to MHI Kobe by the original owners and we took delivery of them in Kobe in the local bank at 2100hrs. Tom Major. David Griffith-Jones, Joe Gardener, Peter Brown, and myself were there. We had to tie up on the phone with London, Bideford, and New York to ensure the money was in place before the ships were handed over.
We then updated them to suit the BOT surveyors who had flown out from the UK and this was a much bigger job than expected, and Mr Major was very frustrated.
---
Cardiff City. Page [1] [2] [3] [4] [5] [6]
Memories from RSL staff. Page No. [1]