840 Class
For those of us who served in RSL, the seven geared bulk carriers, that were built at the Upper Clyde yards, between 1969 and 1972, were collectively known as the "840" Class; as too, were their four sister ships owned by the Irish Shipping Company. "840" was the Yard Building Number assigned to the first of the Class, "Vancouver City".
When the Port Alberni City sailed from the Clyde, on 22nd September 1972, on her maiden voyage, it marked an end of eight years association with the Upper Clyde yards, both for the Company and many of its Officers. In particular, it was farewell to the building of the 840's.

However, to the outside world, the name, "840 Class", was of little significance, because to the Shipping industry at large, the class was always known as the "Cardiff Class", in recognition of the fact that it was RSL that had been the first to take up orders on the Clyde built vessels.
In all, a total of 31 "Cardiff Class" ships were built at the Upper Clyde. Several buildings, for other owners, were ongoing with our own, but building of the class went on until 1981, when the Bishopgate Marine vessel, "Lord Byron" was the last of the class to be launched. There were four, fairly distinct variants of the class: all seven RSL ships were Mk1's, though there was some variation in the last three.

Recently, I was rather surprised to come across a photograph of the Norse Herald, taken in November 1974, setting out on her maiden voyage from the Clyde, in RSL livery. She was built at the former Charles Connell yard at Scotstoun, Scotstoun Marine and was managed by Harrison's (Clyde) for the Cardigan Shipping Company.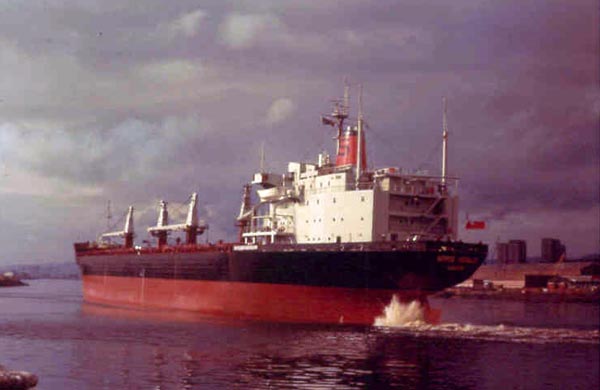 Photo copyright@Paul Strathdee.
It appears that she was on time charter to RSL for three years, and the voyage turned out to be extremely eventful. I don't think that we generally applied our livery to chartered in vessels, but reader's opinions would be appreciated on that matter, and any other knowledge of this charter would also be welcomed.

I am indebted to Paul Strathdee, for both the photograph of the Norse Herald, and the background history to the "Cardiff" Class ships. Mike Jones.
---
840 class vessels. Page [1]
Comments from RSL staff. Page No. [1]