Jersey City (2)
Built in 1922 by J L.Thomson at North Sands, for St.Just Steamship Co. Ltd., Bideford.
6322 gt: LBP 125.5: Beam 16.8m Service speed 11.0kts.
| | |
| --- | --- |
| 1922 | Jersey City, St.Just Steamship Co. Ltd., Bideford. |
| 1929 | Jersey City, Reardon Smith Line Ltd., Bideford |
| 1940 | Torpedoed and sunk in 55.47N:09.18W by U-99, approximately 70 miles northwest of Tory Island, on 31st July. Under the command of Frank Jameson Stirling, the Jersey City was part of Convoy OB-191 which comprised 28 Merchant Vessels and 3 escorts, including HMS Walker. |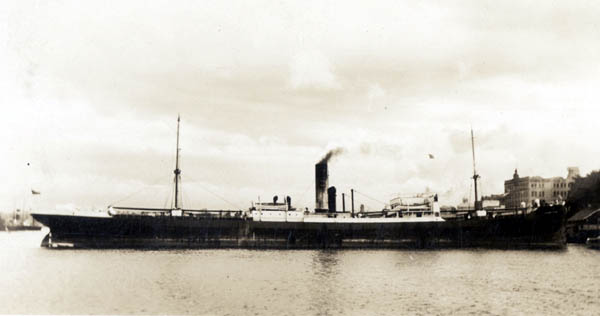 Jersey City. 1922 to 1940.
U-99 was under the command of the legendry Otto Kretchsmer, who sank the highest tonnage of all the U-Boat commanders in WW2.
There were 43 survivors from the full complement of 45; the third Engineer, John Green and Able Seaman, Wybert Gwther, both lost their lives.
The survivors were picked up by the Bristol City Line Ship, Gloucester City and subsequently transferred to HMS Walker, and landed at Liverpool.
We have had in our collection of photographs for some time, a possible photo of this rescue, but we are still trying to find further proof that this is the case.
Another RSL operated ship, the Empire Caribou, was also part of Convoy OB-191, who sadly herself was lost eleven months later with the loss of all hands.
Somewhat ironically, it was in March 1941 that Kretchsmer's luck ran out when the U-99 was sunk by a depth charge from HMS Walker, and he himself was captured.
---
Jersery City. Page [1]
Memories from RSL staff. Page No. [1]