Orient City (4)
The Welsh City and Orient City were built in 1977 at Sunderland Shipbuilders Limited, Sunderland.
| | |
| --- | --- |
| 1977 | Delivered to Reardon Smith Line. |
| 1978 | Sold. Renamed Searadience. |
| 1991 | Flagged by Hong Kong China. |
| 2004 | Taiji Star |
| 2006 | Zheng Tai. Panama flag. |
| 2009 | Broken up India. |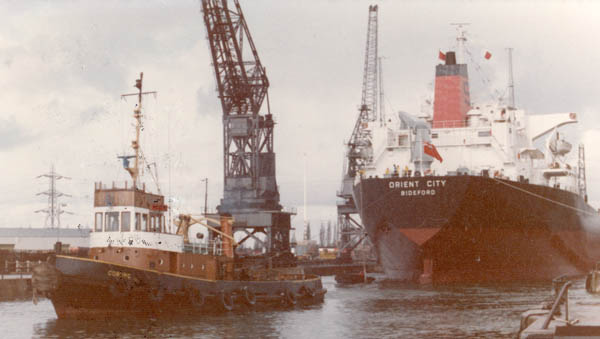 Copywrite © Bryan Boyer.
Master: B.A.G Boyer. Ch.Off: G.T.Parker. 2nd Off: B.T. Hernamann. 3rd Off: C.Swindells. 4th Officer: T.J.Lawrence. Electronics Off: A.J.A.Cottle.
Ch.Eng: R.J.Trigg. 2nd.Eng: A.G.Hodgson. 3rd Eng: K.I.Davies. J.3rd Eng: C.C.Anderson. 4th Eng: R.H.Ashlin. J.4th.Engs: P.B.Williams, M.J.Twitchett. Electrician: K.E.Roberts. Cat.Off: R.G.Pierce. Deck Apps: G.R.J.Faulkner, T.J.Fuller, C.S.Weeks.

Initial Itinerary:-
Sailed Sunderland for Sea Trials 10th March 1977. Returned 11th and sailed for Southampton 11th. Called Flushing for Bunkers 12th March. Arrived Southampton 13th March and Drydocked 15th.March. Undocked 16th March and delivers from builders 17th March. Sails Southampton 18th March. Arrives Richards Bay 7th April, loads coal, and sails 10th April. Arrives Le Havre 2nd May for discharge, completing 5th May 1977.
---
Orient City (4). Page No. [1] [2] [3]
Memories from RSL staff. Page No. [1]