Olmeca
The Atlantic City (4) was built by Fairfield Shipbuilding and Engineering Company in 1967.
Gross tonnage: 27,029.34 tons. Net tonnage: 17,920.68 tons.
1976
Atlantic. Purchased by TMM. Managed by RSL.
1979
Name changed to Olmeca. Still owned bt TMM.
1980
Orient Coral
1985
Broken up in July at Dalien.
The Fresno City was built by Upper Clyde Shipbuilding Ltd. at the Govan Yard and was Yard/Hull No.844. This was the fourth of the seven 840 class vessels built for Reardon Smith.


1983
Olmeca. Purchased by TMM.
1988
Singa Sailor.
1992
Laid-up.
1994
Broken up at Zhoushan, Peoples  Republic of China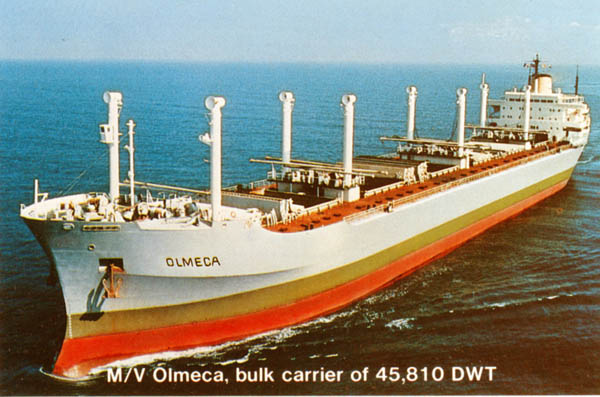 TMM bought two of the RSL fleet that they chose to name Olmeca; Atlantic City (4) in 1976, when she was initially named Atlantic, before becoming the Olmeca in 1979. In that guise she remained with TMM for a further year, before being sold out of their fleet in 1980 to become the Orient Coral trading for another five years until July 1985 when she was broken up in Dalien.
The photo above is the ex-Atlantic City.

In 1982 the Mexicans bought the Fresno City (4) and she was also named the Olmeca. Six years she remained with TMM before she, too, was sold on as the Singa Sailor. She was broken up in Zhoushan in June 1994.
The photos on page 2 are from the ex-Fresno City, but we do not have a ship photo.
---