New Westminster City (4)
1972/3. Elec Pete Willmot, Master John Cann, J2/E Colin Gateshill.
1972/3. Two Junior engineers, Colin Gateshill.
Christmas 1972.
Marion and John Cann and their two daughters. Photo taken Amsterdam when the vessel was undergoing repairs after grounding off Cardiff.


All photos copyright © Colin Gateshill.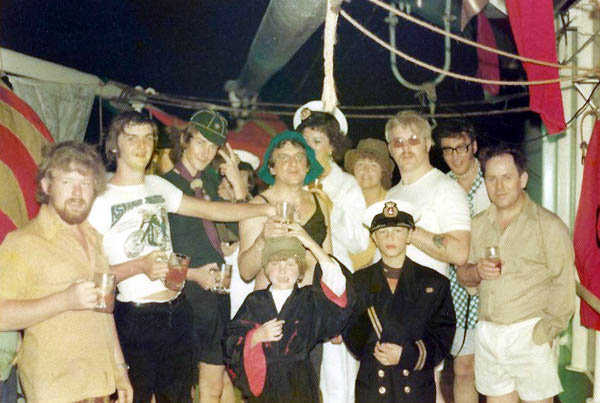 January to July 1975.
L to R. Chas Macey R/O, 2 x deck cadets?, Mrs Snook (hiding at the back), Malcolm (elect) and Vicky Bennington, Eira Davies (2/E's wife), Leighton Seabrooke C/S, Mike Snook 3/E and Joe Cormack C/E.
Children at the front, Isabel and Robert Bennington. Copyright © Terry Davies.
---
New Westminster City. Page [1] [2] [3] [4] [5] [6]
Memories from RSL staff. [1] [2]