Sara Lupe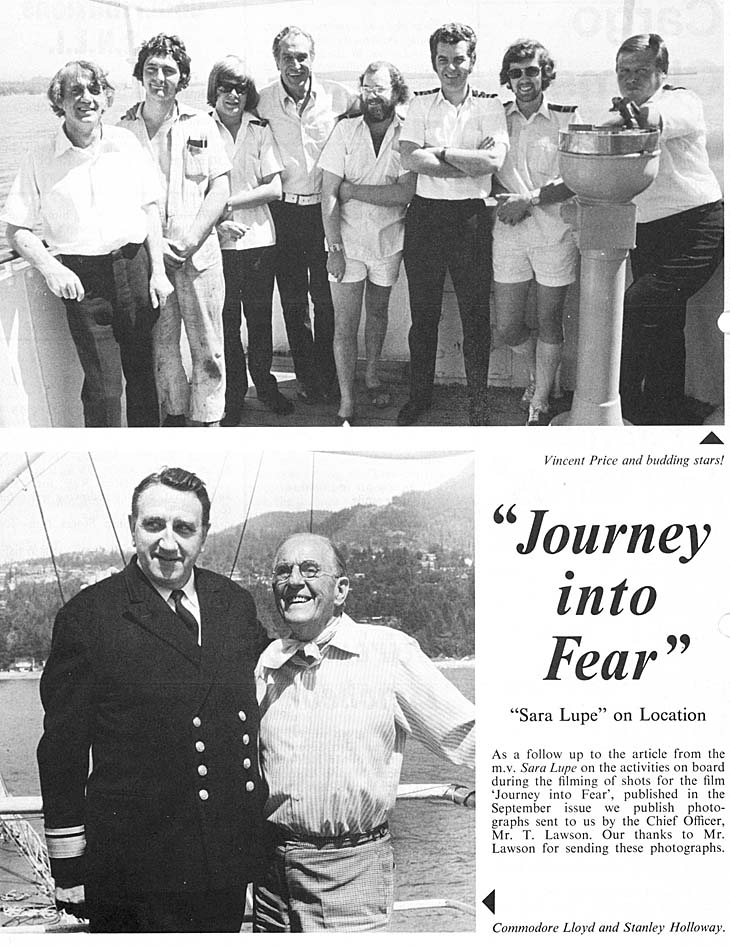 Photos courtesy of RSL Newsletter and the late Tim Lawson.


The Officer list for the voyage in question, was as follows:-
Master: J.D.Lloyd, C/O: T.Lawson, 2/O: A.M.Beever-Reid, 3/O: G.Sizer, R/O: D.S.H.Thomson, Ch.Eng: R.U.McLean, 2/E: T.W.Davies, 3/E: O.G.Williams, 4/E: D.J.Carter, J/4/E: P.W.Place, J/E: J.W.J.Prophet, S.McGrath, Elect: F.T.Peek, Cat.Off: J.Buckmaster, Dk.Cadets: J.A.Taylor, J.Doody.
From the top photo, Tim Lawson is at the extreme right, and Terry Davies is second left. I never met Mr Beever-Reid, the second mate mentioned above, but the officer at far left looks remarkably like Bill Hopper.
Regarding location, I stand corrected, and Robbie would appear to be right in stating that the action took place in Vancouver. The ship definitely called there that voyage.

Just incidentally, the film was an adaptation of a novel by Eric Ambler, and was a re-make of an earlier one, in 1943, which starred Orson Welles. Journey into Fear, was the last film that Stanley Holloway made. MikeJones. Posted on forum 4th February 2011.
L-R :- Fred Peek (Elect), Terry Davies (2nd/Eng), Geoff Sizer (3rd/Off), Vincent Price, Dave Carter (4th/Eng), R McLean (Ch/Eng), David Thomson (R/O), Tim Lawson (Ch/Off). David Thomson. Posted on forum 19th October 2013.
---
Sara Lupe. Page [1] [2] [3] [4] [5]
Memories from RSL staff. Page No. [1] [2]