Tula
Comments from the forum - 1
Sinking of Tula. I have met a few on ship's and seminars over the years Chris Jones IoM Surveyor now and who was the Ch Off (acted as Master)on Tula that sank alongside in Florida, he is now head of Lloyds ISM Division in Rotterdam or was. John Jones. Posted on forum 24 March 2010.
According to my records Tula sank whilst alongside in Mobile Alabama 3rd January 1986. I have these pics showing tide marks in Engine Room.
I was on Cordoba and paid off in Mobile 25/02/87.
Remaining crew on Tula at this time was C/O Tony Field and 2/O Eddie Naughton.
Jerry Coleman. Posted on forum 27 March 2010.
The duty engineer was starting up a generator when the flywheel disintegrated. One large piece went through the side of the ship which sank at it's moorings. Luckily the ship was alongside and settled on the bottom. No one was injured. wasn't there at the time but I remember having to crack test the flywheels of the generators on the sister ship. That's as I remember it but the finer details such as the name of the sister ship escape me. I do remember that Ianto Morgan and I had many hours of "Fun" trying to get the generators into some sort of working order. Roger Shannon. Posted on forum 28 March 2010.
As far as I recall the vessel's three generators, relatively slow speed B&W machines, were all situated on the bottom platform of the E.R., two to port and one to starboard. On one machine the flywheel, a pretty substantial lump, burst asunder, 3 pieces?, whilst the machine was on load.One piece of which went through the ships side, well below the waterline, and consequently E.R. was flooded. Total Constructive Loss in the end. David Litson. Posted on forum 28 March 2010.
I understand that Tula was in Mobile, Alabama on TMM's Meddy Liner Service. (Vera Cruz, Tampico, Mobile, Canaries, Spain, Italy, Spain, Miami & Vera Cruz)
Prior to commencing cargo work, duty engineer started an additional generator, I believe that it went into wharp factor 9 (Over speed). The fly wheel fractured and broke off flying straight through the side of ship. This caused the engine room to flood and the vessel to slowly sink by the stern whilst still alongside.
I sure that some of our engineers will be able to give a more technical summary of events.
Jerry Coleman. Posted on forum 28 March 2010.
Probable cause, hairline fractures/fretting in coupling bolt holes in flywheel, attachment of flywheel to crankshaft.
Drydocked one of them in Hamburg on behalf of TMM in late 70's at 24 hours notice. Pretty poor state even then. David Litson. Posted on forum 28 March 2010.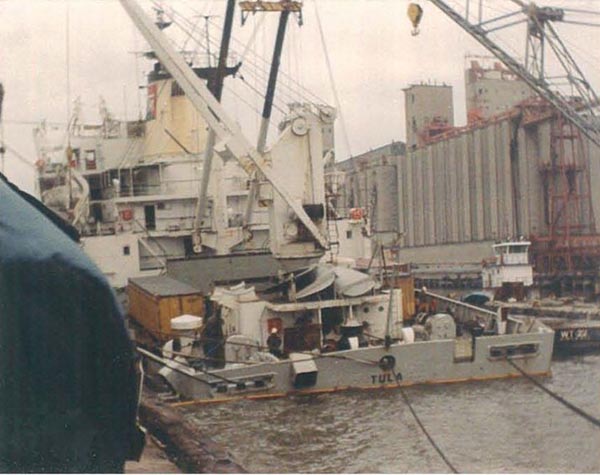 The Tula after it sunk.... well not exactly sunk but ended up 5ft fwd and about 56ft aft.... and they always told me the maximinum draft was 32ft!!!!
No. 6 hatch was a raised hatch so that the vessel is well down..... No. 5 hold / ER / No. 6 hold / Freezer holds / all the aft store rooms all flooded

The Salvage Association Surveyor was really impressed with the ships staff....... the incident happened at 0832 and he arrived just before lunchtime from New Orleans, we had power with a portable generator on the quay and like really good seafarers of the time had ensured that there were connections into the boxes that supplied the cabin fridges... He liked the cold beer, must get ones priorities right...
The best thing about this was that it was a "good accident" - in a good accident anything can be broken, demolished, sunk whatever BUT NO ONE HURT.... a bad accident is when someone is hurt

Saw on this site somewhere that one comment was that these (Tula & Cordoba) were bad ships, they were not, they were well build, once very good but had been neglected, if you went anywhere on them these days in Europe or the USA you would get detained but there was so much to do and so many issues to be solved you learnt a great deal. What a learning curve. I enjoyed my time on them.
I was Mate on these ships with many different Masters, Bob Baker, Ian Stutt, Charlie Boyer, Geoff Birrell, Pete Baverstock - all gave you great backing. Tony Field. Posted on forum 28 March 2010.
I walked up the gangway to leave the ship. I woke up to a loud bang and sound of alarms. my thought was that a container had dropped..
My dad, Colin Harrhy, banging on my door.... we got to get off the ship babe!!!!
Mobile Alabama age 14.
Memories of ship cockroaches in my bulkhead and a mouse ran up my leg in the bar. Nanaimo Harrhy. Posted on forum 29 May 2013.

---
[1]
Memories from RSL staff. Page No.
[1]
[2]