Sacramento Valley
Built in 1924, by Workman Clark of Belfast as Skegness (2) for The Oakwin Steamship Co.Ltd., Bideford.
Gr.Tons: 4573 LPB: 122.4 m Beam: 16.6 m Service Speed 11kts.
| | |
| --- | --- |
| 1924 | Skegness , Oakwin Steamship Co. Ltd., Bideford. |
| 1927 | Skegness , St.Just Steamship Co. Ltd., Bideford.  |
| 1929 | Skegness, Reardon Smith Line, Ltd., Bideford. |
| 1931 | Sacramento Valley, Reardon Smith Line Ltd, Bideford. |
| 1941 | Torpedoed on 6th June by U-106, in 17.10N/30.10W whilst on passage from Cardiff to Pernambuco with a cargo of coal. |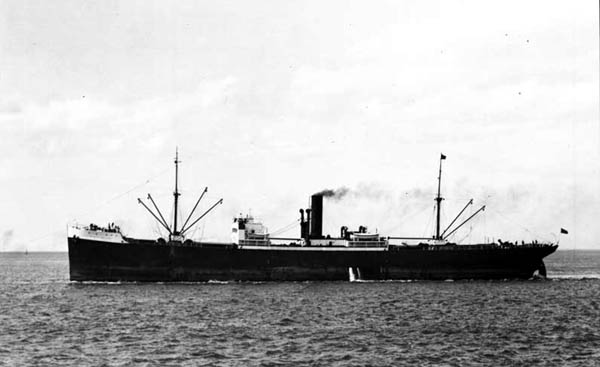 Sacromento Valley 1924 to 1941.
Notes: Under the command of Captain Harold Sharp, the Sacramento Valley had dispersed from convoy OB-324 on 27th May in 53.00N:29.30W. She was hit on the port side by a single torpedo, when about 250 miles NW of Cape Verde Isles. The Third Engineer, Charles Long, and two Firemen were killed; the  port lifeboat was also destroyed. Within 10 minutes of being struck, the ship sank bow first. Using only the remaining starboard lifeboat and two Jolly boats, the remaining 46 crew members were able to get clear of the vessel. The U-boat surfaced and made contact with the boats and gave directions to the nearest land. Three days later, on 9th June, the starboard boat with 39 people aboard, and under the command of the Second Officer, Barty Parkhouse, were picked up by the Sutherland owned ship Caithness. They also located, and picked up, the five men from the first Jolly boat which was Captain Sharp's boat. They were all landed at Freetown on 14th.June. The second Jolly boat in which there were seven men was the Bosun's boat, and she continued sailing westward and were not sighted until the 24th June, when they were picked up by the tanker, Stanvac Calcutta and landed at Aruba  on 3rd July.
Yet another reminder of those appalling experiences that Merchant Seamen had to endure during war time.
---
Sacromento Valley. Page [1]