Orient City (2)
Comments from the forum - 1
My first voyage. I joined my first ship, ss Orient City, in Rotterdam Drydocks on 12th December 1956. There were no engine cadets in those days and we joined as Junior engineer after serving a five year apprenticeship ashore.
I sailed on the vessel for two voyages which was the ship's last two voyages for Reardon Smith as it was then laid up in Cardiff docks and eventually sold to a Pakistan shipping company.
The first voyage was quite common for RSL in those days and was loading coal in Baltimore for Kamaishi, Japan. It was then down to Western Australia with the deck department putting up shifting boards on the way. We also had to make an emergency diversion to Guam to drop off a British seaman who had appendicitis. In those days Guam was still in the control of the US forces and they sent out a landing craft with a doctor to take off the seaman. They advised the ship that night that they had operated and it was successful.
After topping up in Freemantle we returned to Manchester via Capetown as the Suez Canal was still closed due to the Suez War.
These ships and the later ships built in 1955/6 were able to navigate the Manchester Ship Canal. It was necessary to anchor at the mouth of the river and lower the top half of the main mast down into the lower part so that the vessel could pass under the bridges.
Discharging was quite slow in those days and I had a few days leave in Jersey before rejoining the ship.
The second voyage was quite interesting. Three times we went across to Seven Islands on the St Lawrence River to load iron ore. This port was designed for quick loading of large ore carriers and came as a big surprise to us. The ship discharged all of its ballast whilst at anchor, and then loaded the full cargo in 25 minutes. At Seven Islands anchorage there used to be a lot of fishing, with plenty of good fish to be caught. When we went alongside we moored with only one each headline and backspring and had a tugboat amidships keeping us alongside throughout the loading operation. There were two loading chutes, each with a capacity of 8000 tons per hour, but they used to "rein it in a bit" for us and only load full rate on big ore carriers.
The organisation at Seven Islands was terrific and as soon as we finished loading, the tugboat took a line aft and pulled our stern out off the quay and the ship in the waiting berth astern of us started moving along to take our place. We then anchored in the bay to secure ship before heading out and across to U.K.
The discharge port for the first cargo was Newport, Mon. We then did two more trips across the North Atlantic and the second cargo was discharged at Manchester and the third at Irlam, Manchester.
There was no radar sets on those wartime ships and there were quite a few icebergs floating around. In the ice fields at night we used to stop ship and resume passage after dawn, and Willy Willis didn't like this practise at all and used to remonstrate with Syd Leebetter. Apparently he feared that an iceberg may drift down on us !.
The next part of the voyage was one of my favourites. We went up to Port Churchill and loaded grain for Manchester again. We had a great time there and everyone was very friendly. I would like to go back there for a holiday in the Autumn when the polar bears are returning, but my wife refuses to go because she thinks holidays should be taken in warm climates.
The next part of the voyage was to load phosphates for discharge in Durban. We then loaded grain in Capetown for discharge Glasgow. When we arrived at Meadowside Quay in Glasgow the New Westminster City was also there. Both ships were alongside for Christmas and New Year.
The Orient City then sailed for Cardiff and most of us paid off and returned home on leave.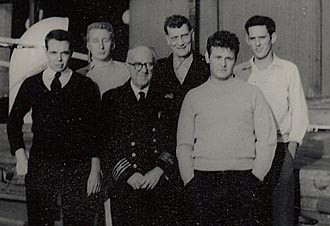 The Master was Syd Ledbetter, C/O Mervyn Davies, (Mervyn was married to Capt Ward's daughter Dorothy and went on to become a Barry pilot), 2/O for the first voyage was Jim Murray and he was replaced by Tony Lightfoot, 3/O was Stuart Clough from Halifax who left RSL and Joined Port Line, (later became Port Superintendent in New Zealand). R/O was Stan Whitmore.
Chief Engineer for the first voyage was Willie Willis and he was replaced by Tommy Gray, 2/E was Fred Banks, 3/E Danny Trigg. I was Junior Engineer for the first voyage and 4th Engineer for the second voyage. The photo above taken at Meadowside Quay, Glasgow in January 1957 shows from left Eric Poingdestre, Danny Trigg, Tommy Gray, Fred Banks, and two junior engineers.
Thanks go to Tony Lightfoot for supplying some of this information.
Eric Poingdestre.
Posted on the forum 17th March 2010.
---
Orient City. Page [1] [2] [3]
Memories from RSL staff. Page No. [1]
Orient City/Madras City Data Page No. [1]