Leeds City (4)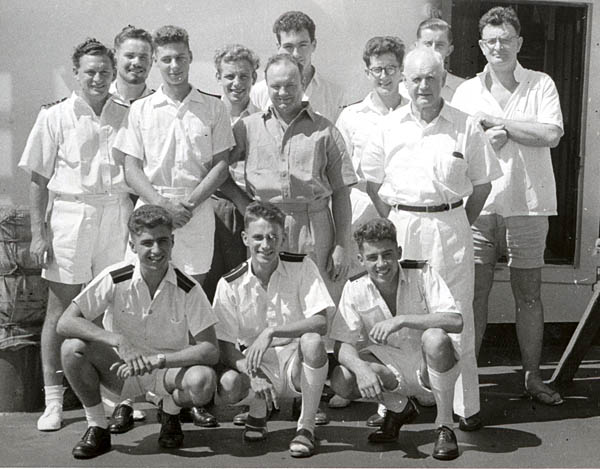 Christmas 1957.
Back row. Deck Apprentice: P. Radford, J/E: Smith, Engine apprentice: Vowles, 3/e: Wynne Evans, J/E: S. Wheaton, C/E: L. Wainwright.
Mid row. C/O: D. Griffith-Jones, Engine apprentice: Dancy, 2/E: Robertson, Master: Blake Carnaffon.
Front row. Deck apprentices: C. Thomas, B. Boyer, T. Sawyer.
1st April 1958.
From left:
R/O: Tapper Davies,
C/O: Harry Lloyd-Evans,
C/S: John Louden,
App: Robin Stuart,
App: W. Wainwright.
3/O: Derek Flowers, 2/O Tony Lightfoot.
C/O: Harry Lloyd-Evans

All the photos were taken 1957 or 1958.
Click on any smaller photo to view a larger one.

Left: 3/O: D. Pratt and 2/O: Philip Vanner.


All photos copyright © Bryan Boyer.

Officer list for April 1958 to August 1958.
Captain: Blake Carnaffon, C/O: Harry Lloyd-Evans, 2/O: Tony Lightfoot, 3/O: David Pratt, R/O: Willie Cameron, C/E: Lionel Wainwright, 2/E: John Dutton, 3/E: Wynne Evans, 4/E: G. Parker: C/S: John Louden, Cadets: Bryan Boyer, Robin Stuart, Peter Radford, and Clive Thomas.

In August 1958 the following changes were made: 3/O: Derek Flower, R/O: Tapper Davies, and John Wheaton became 4/E.
---
Leeds City. Page [1] [2] [3] [4] [5] [6]
Memories from RSL staff. Page No. [1] [2]