Dallas City (1)
Built in 1936 by Furness at Haverton Hill, for Reardon Smith Line, Ltd.
4952 gt: LBP 130.0: Beam 17.1m Service speed 12.0kts.
| | |
| --- | --- |
| 1936 | Dallas City. Reardon Smith Line, Bideford. |
| 1940 | Having loaded a cargo of ammonium sulphate on the Tees, the Dallas City was one of 14 Merchant ships that made up Convoy OA 178 that had assembled at Southend on 3rd July 1940. From there the convoy was escorted westwards and  passed through the Dover Straits in the early hours of July 4th. Later that day, the convoy was attcked by German Dive Bombers. Six of the Merchant ships were damaged, either by direct hits or by subsequent fire and collision. The Dallas City was sunk, and of the the remaining damaged vessels, the Antonio was able to rescue many survivors from the other damaged ships; this included those from the Dallas City. |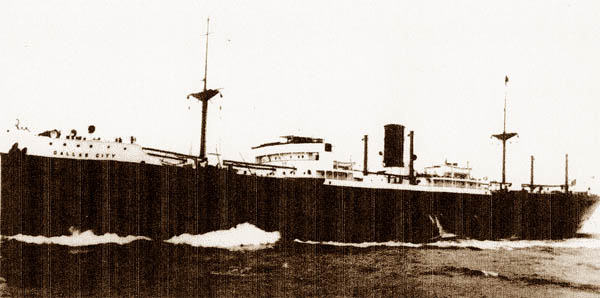 Dallas City 1936 to 1940.
Note. Several ships of the convoy sought refuge in Portland Harbour, only to find that they were again attacked from the air. The consequences of this attack was that all future convoys from that region would be escorted to the north in order avoid the English Channel.
See also Profile of
Houston City (1)
---