Bob Baker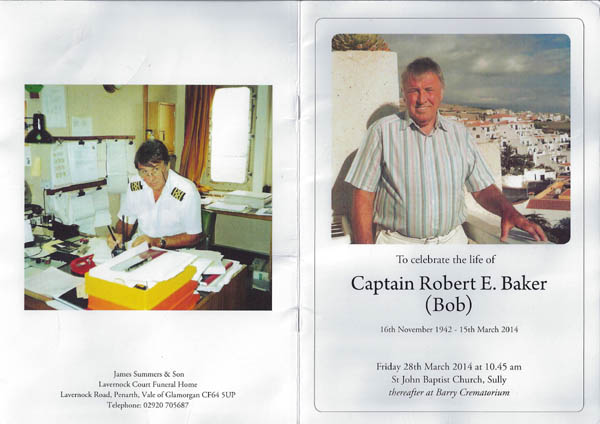 The following was printed in the South Wales Echo on Tuesday 13th April 2014.
Tributes have been paid to a father of two who sailed all over the world.
The life of merchant navy Captain Robert Baker, known as Bob, was recently celebrated with a funeral service after he passed away at the age of 71.
Mr Baker lived in Sully all his life, where he went to school and grew up with his wife-to-be Carol. The couple were married for nearly 50 years.
"I have had so many cards from people saying what a lovely man he was - what a gentleman" said Mrs Baker, 69.
"I just wish he was still here to see the cards and hear what people have said about him".
"I feel so proud. He was a wonderful husband and the sort of man that never said a bad word about anyone".


After attending Sully Primary School and Penarth Grammar School, Captain Baker launched into his sea faring career.
He rose through the ranks as he started as an apprentice with a London shipping firm in 1959, aged 17.
He worked for the Geest Line from 1966 to 1974, becoming a Chief Officer, before joining Reardon Smith and Sons Ltd, now Cardiff Ship Management, for 21 years, where he achieved his captaincy.
"We sailed all over the world together during his career" said his wife. "I have been on every continent. It was just a wonderful life for the both of us".
During one of the family voyagers, Captain Baker,s daughter Tracy fell in love with one of his fellow officers, Steve Broderick, who she later married.
"There was so many people from all over the country at the funeral who had sailed with him over the years", added Mrs Baker.
"Everyone admired him and I have had cards from colleagues saying they loved working for him".
A card from one of his former junior officers said "Captain Bob was the best I sailed with. I was always glad to walk up the gangway and find that he was the boss".
If you were out of order, he would 6ell you, but in such a way that you didn't mind and you knew he was right to kick your bottom in the first place".
"I would be happy to sail with him at any time. I have missed his company onboard and his one-line witty remarks".
I will miss the banter and a few pints in the bar with Captain Bob".
He retired at the age of 59 and he enjoyed spending time with his four grandchildren and helping his two children with DIY projects, among other hobbies.
Last year Captain was diagnosed with an aggressive form of blood cancer and he later died peacefully with his family around him at the University Hospital of Wales.
His wife added "Everybody is going to miss him".
April 2014.