Colin Gateshill
I sailed with RSL from March 62 until May 73 and I can remember the bulk of the crews from the early days. Unfortunately when it comes to the latter days I have problems.
My first ship was the Welsh City and I did three on the trot, 16 March 62 until 14 Feb. 64.I was J/E for eight months and 4/E for the last two trips.
Next was the Houston City and another three on the trot as 3/E. 14 Nov. 64 until 21 March 67.
Next in line was the Eastern City,3/E, from 26 June 67 until 13 March 68. Signed on Antwerp
paid off Marmagao. The Atlantic City was next, 3/E, from 5 June 68 until 13 February 69. signed on P. Elizabeth left Marmagao
Back to the Eastern for trip 10, 3/E, 20 June 69 until 3 Dec.69. Joined Astoria paid off Rotterdam.
No. 10 was the Vancouver City fitting out at Govan. Half a dozen of us teamed up in Glasgow early in February and the full crew signed on 30 March 70.We sailed on April 4th., just nice for the tax year. The maiden voyage ended on 15 Dec at Cristobal CZ. and four of us stayed on for another bite.
I went 2/E and Gordon Lee Elect, Phil Reynard 3/M and Bob Peach C/S headed for the the tax year. We finally paid off at Nanaimo on 5 June 71.
Next it was back on a real tramp ship. Five and half months on the Orient City as 2/E with a tremendous crowd. It was a bit of a downer when we came to Rotterdam to sell the ship. 15 October 71 until 28 April 72.
Trip 13 was on the Victoria City 2/E, 1 August 72 at Kokura until 17 October 72 at Felixstowe. Hardly time to unpack.
Last but not least was the New Westminster City. J2/E 22 Nov. 72 Until 15 May 73. Joined Antwerp and paid off Newark NJ.
If anyone is interested I have a full list of ports visited by which ship. I will gladly bore anyone to death if need be. I also have some photos in the proverbial loft. Most are slides and the colour could be iffy by now but I will see what is worth printing.
I have browsed through the forum and as I never could mind my own business I'll stick my nose in here and there. There are plenty of names to kick start the old brain box. Some may remember me and some may have chosen to forget me but what the hell, I liked all of you. March 2012.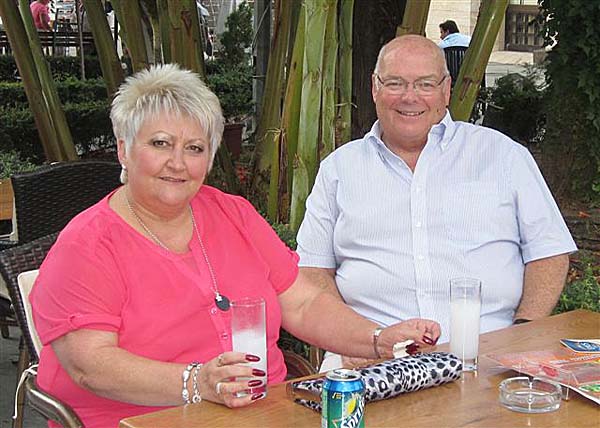 Life after RSL. A sometimes lighthearted look.

In the early months of 1973 I was on the NWC in mid Pacific and I thought to myself, "I've seen all these waves before", so I decided to try pastures new. I got pastures new alright, I ended up in the Saudi Arabian desert.
I went for an interview for a marine fitters job in the Persian Gulf and during the interview this American casually asked me what I knew about gas turbines. I knew the basics, i.e. stick fuel into high pressure air, light the touch paper and stand well back. I also knew that four of them made a Boeing 707 go at 600 mph. I was truly an expert. Needless to say I got the job, unfortunately I ended up in the desert. A few of us Brits and a dozen or so Americans were based about 120 miles inland from Dammam, ( just above the high water mark). We were commissioning General Electric gas turbines rated at 20,000 SHP. BIG!, When the air filters were fitted it was like a housing estate. That is something else I learned from my American bosses, how to bulls--t. Actually it was only like a small housing estate. Serious again. The days of oil gushers a la John Wayne were long gone and these engines were intended to drive a series of pumps which would pump water into the oilfield to help lift the oil. The oil in our area was 14000 ft. below the surface so it took a bit of lifting. Big oilfield is equal to big pump which is equal to big engine. Water in the desert? Tons of the stuff, trouble is it tends to be in the wrong place, ie well below the surface. Just a little aside, In the early days I asked my immediate boss where he was from." New Orleans" was the reply. "The city or the general area" says I. "A little place you ain't never heard of", "Try me" says I, "Destrehan, Louisiana" he says. "Been there" says I ,"Goddam" says he, a friend for life. A small world indeed. During 1977 I had had my fill of washing sand out of my socks and went looking for something else. I had never really got salt water out of my system and one day I spotted a bit of a vague advert in the press. Seagoing deck and engineer officers wanted for Middle East shipping company and a London phone number. Being a curious type I thought "Why not" and picked the phone up. Little did I know that curiosity might very nearly kill the cat. Two weeks later I was an employee of the grandly named Arya National Shipping Lines of Iran. The Iranian government wanted Brits to show the Iranians how to run a ship. NO CHANCE!! I joined a Polish built excuse of a ship in New Orleans and discovered I was the only Brit onboard. The crew consisted of Indians, Pakistanis, Fillipinos a Turkish R/O and of course an Iranian crew. They all had 'tickets' hanging out of their pockets but they were mostly Liberian or Panamanian. Actually they were mostly decent blokes but they weren't too keen on work. They had their own system in port. When we got FWE they all went ashore and if there was any time left we might do a bit of maintenance. I kid you not. The galley could not keep us going in tin cans to catch the oil leaks. I could talk about it all day. Then in 1979 the fit hit the shan and Mr. Khomeini ousted my mate the Shah. Unfortunately I happened to be in Khorramshah at the time and as luck would have it the OM was a Brit, good bloke from West Hartlepool. Swore he was British but I was suspicious, West Hartlepool Hmm. Any crowd that hangs a monkey has to be treated with suspicion. (If anyone doesn't know the story let me know and I'll gen you up.) The country closed down and the sillyness started. An armed bunch of tossers came onboard, broke into the bond and threw all the alcohol into the river. Now that is sacrilege in any language. The Iraqis decided to join in and most nights they threw a few rounds of tracer in our direction. Iraqis on one side and a bunch of lawless armed Iranians on the other and me in the middle on a ship with funnel markings relating to royalty. The Iraqis were real tough guys, shoot at you at night and throw stones at the ducks during the day. I would put my money on the ducks any day. After a while we were told to head for Bandar Shahpour but by the time we got there they had changed its name to Bandar Khomeini but neglected to inform the maritime world. Our R/O reckoned there were ships all over the Gulf asking if anyone knew where it was because the Iranians were keeping it to themselves. We finally ended up in Dubai and once the money arrived the OM and myself took our wages, saddled a couple of fast camels and headed for home. Since then I have lived a pretty average existence, married a honey thirteen years my junior in 1979, (told you I wasn't as daft as I looked). We have a daughter and a one year old grandson called Max. I worked in a power station for 20 years until made redundant in 2000. I even worked for DEFRA during the foot and mouth outbreak in 2000/1. Eighteen years ago my wife casually asked if I fancied buying a ladies hairdressing business. Well, I had been skint before so I thought "why not", fortunately she has a business brain and we are living happily ever after.
To think that this all started at the foot of the Welsh City's gangway in March 1962. We sure got around didn't we. October 2012.
When I was serving my 'time' in the dry dock in Blyth I was constantly being told tales about 'going to sea' and I couldn't get enough of them. All I wanted to do was get onboard a ship. The majority of the fitters had some time in. Some of the younger blokes did just enough to keep clear of N. Service but a fair number had more than a few trips under their belt. Mind you most of the 'good' stories came from the tramp ship men. One thing they were all agreed on, 'stay clear of the Newcastle companies'. One bloke who had done a couple of trips on the Devon City in the 1950s told me that if I wanted a decent tramp company then I should write to Smiths. No interviews or phone calls just a couple of letters and I had a job. When I told him I had a job and what did I need in the uniform department he said 'football shorts and tee shirt' would be a good start. That was the kind of advice you got in the yards. One thing that has stood out as I've read this section, nobody has mentioned money. I certainly didn't consider the wages and it was just prior to leaving home that I found out that Smiths were paying Juniors £5 a month more than Board of Trade basics. At the beginning of 1962 my starting wage was £48 a month on B articles with overtime paid at 6/4d an hour. (32p?). I think leave was one day a month plus Sundays at sea but I may be in error. One thing for sure it never entered my head to go somewhere else and I lapped up every minute as a Smiths man.
One piece of useless information. The MN Officers pool was in Watergate Buildings at the North East corner of the Swing Bridge over the Tyne. The last time I was in the vicinity it was Italian restaurant with a very good bar attached. Progress!! I think not. Colin Gaitshill. Posted on forum 9 September 2013.