John Gardiner
My name is John Gardiner, started with RSL in October 1969 as 2nd Electrician on the M.V. Cardiff City, my immediate boss being Electician Jim Mclaren( if my memory serves me rightly ).
This was my first trip, only 20 years old and still wet behind the ears. Joined in Yokahama, boy was that another world from my home town of Edinburgh.
The "Old Man" was Tony Lightfoot, Mate John Gordon, 2nd Mate Mike Hurst ( Porche engine in volkswagon beetle ) and 3rd Mate Billy Hopper.
Chief Engineer Willie Morgan, 2nd Ian Fraser, 3rd Reg Russell and fourth Tony Gough ( all soup had to be drunk out of a cup ).
This is just a taster for everyone on our trip down memory lane.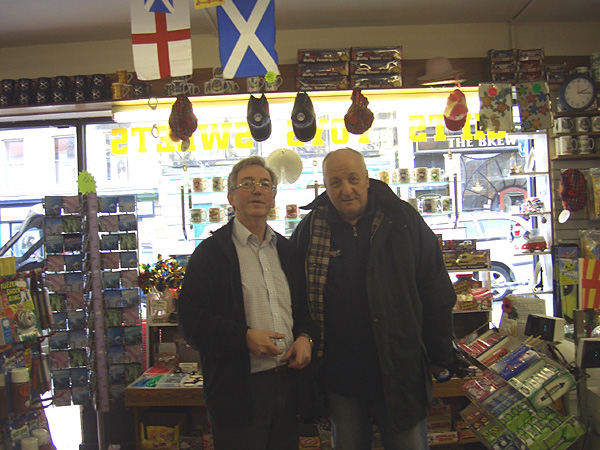 Have attatched a photo of myself (John Gardiner lekie) and Dave Ricketts (engineer) taken approx April 2009 when Dave called into my emporium in Berwick-upon-Tweed.
Looking out through the shop window you can see the BREWERS ARMS,the local of Robbie Bell retired RSL C/Eng who is still going strong.
January 2011.