Robbie Unthank Bell
Robbie passed away on February 18th 2013 at Berwick Royal Infirmary after a short illness.
Click here to read the condolences posted on the Forum.
The name Unthank is an old Border name. The Unthanks were notorious sheep stealers and cattle thieves operating around the Scottish Borders during the 16th. and 17th centuries therefore I don't think they would have any connection with the sea.

I haven't researched my family history in case I find out to many things I wouldn't want to know.

I have fond memories of sailing with Mike Jones and Danny Trigg on the Port Alberni City in 1981. My late wife and I joined in Newcastle loading fertiliser in Ghent and Terneuzen for Durban then up to Richards Bay to load coal for Venice, the on to Houston where we paid off. I always considered it one of best trips I ever done.

I shall be 80 in October, I recently retired from Berwick Harbour Commission after 22 years so I still had a connection with the sea. I write the monthly report on the comings and goings of Berwick Port for the Berwick Advertiser, I am a keen but not an expert photographer, I get about the Town meeting people and calling in to The Brewers Arms, known locally as The Heavy G Battery.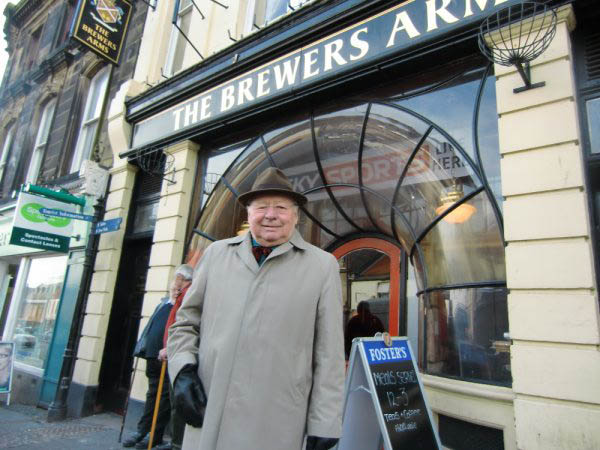 This photo of Robbie Bell was taken outside his local after he had enjoyed his 11 o'clock constitutional. He was happy for the photo to be published on our RSL site so that all his old shipmates can see he is still alive and kicking.
The pub situated in Marygate, Berwick-upon -Tweed is the Brewers Arms, known locally as the " Heavy Battery ".

February 2010.