Glan Phillips
I joined RSL in February 1948 and served as apprentice, 3rd & 2nd Mate until end of 1953. Leeds City (3) Capt. Hooper, Orient City (2) Capt. Fred Dodman, Leeds City (3) Capt. John Cox, Atlantic City (3) Capt. Wilson, Atlantic City (3) Capt. Tommy Dixon, Devon City (2) Capt. Fred Dodman. This was followed by service with several shipping lines including serving on board tankers, then quite a few years spent in the short sea trade. My first position as master was on board a 980grt aggregate dredger!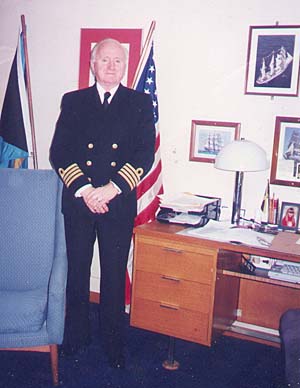 I was then employed with the Swansea Pilotage Authority and also as a Trinity House Outport pilot. In 1980 left the UK to take up a position as pilot in the Bahamas, berthing and unberthing tankers, including VLCC's & ULCC's at a sea island terminal. This was supposed to last for ten years but after four years came to an end. Shortly after I was fortunate enough to obtain a position as staff captain with a Miami based cruise line and six months later a permanent master's position.
I operated cruise ships out of Florida ports....Tampa, Miami, Ft Lauderdale & Port Canaveral. Also San Juan, PR, Cuba ( first cruise ship to be based in Havana for 35 years ! ), Singapore and finally Texas.
In late 1999 due to insanity or senility (probably both) left sea going employment and bought a restaurant !
Only one comment.....'Big Mistake". A year later, after learning a very costly lesson sold the business, or rather almost gave it away !
Since then, worked at a local regional airport and for an air courier company (I have held a pilot's licence since 1966)
From 2002 until 2007 worked as a counselor at wilderness camps and a group home for delinquent teens, guess the time spent with RSL came in useful
after all !
Have lived in Florida since 1984, my wife passed away suddenly in April 2005, she was also from Swansea. Now hopefully I can get motivated to sort the home out, sell up and return to Wales where I belong.
A couple of years ago, I met up with Anthony Johansen , first time since around 1956, we sailed together on the Atlantic City in 1950. God willing, I am scheduled to meet up with him again in a couple of weeks.
I have also been in touch with Capt. John Cann, we never sailed together but John started his career with RSL not too long after myself. Posted on forum 23rd January 2010.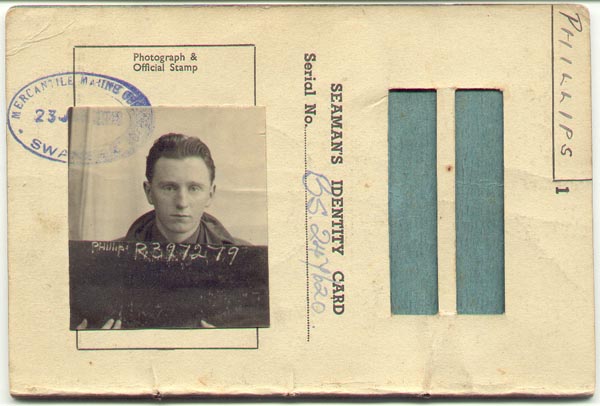 Seaman's Identity Card issued to Glan when he joined the Leeds City in 1948.