Paul Gallie
Paul has changed jobs and moved back to Panama as I have received an email this morning :-

Director BDV LAM
11/30/2009

We are pleased to announce the following:

Paul Gallie has been appointed Director Business Development for the LAM BDV
Satellite Office in Panama as per 23rd November 2009.

Paul is a British national and obtained his Master Degree in Nautical
Science at John Moores University in the UK in 1991. He has extensive
shipping/port experience as well as with reefer cargo. His career has
included international assignments in container, shipping and logistics
industry for Chiquita Brands International, Pablo Shipping Limited and
Hutchison Port Holdings. He was most recently employed with Hutchison Port
Holdings/Terminales Internacionales de Ecuador, Manta, Ecuador as Managing
Director and Country Manager for Ecuador & Colombia.

Having lived and worked in Colombia, Panama and Ecuador, Paul is fluent in
Spanish and has a strong network in Latin America witch will benefit us in
potential projects in Latin America.

Please join us in welcoming Paul Gallie to APM Terminals.

Best regards,
Kim Fejfer
Posted on forum 8th December 2009 by Jerry Coleman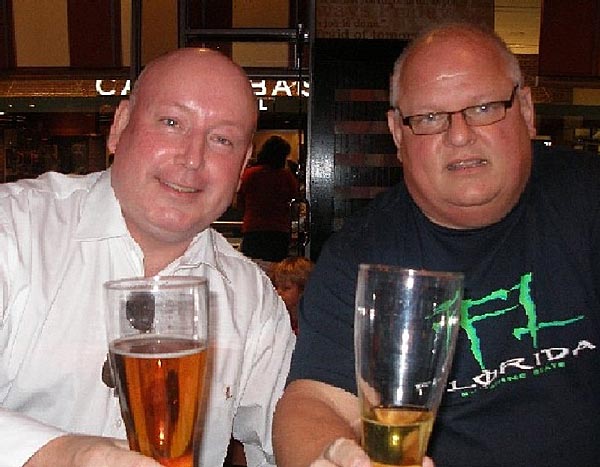 Paul Gallie (left) and Jerry Coleman at Tampa International Airport. It was a chance encounter as Paul was visiting Tampa for a conference, and Jerry was on route back to UK from one of my regular trips to Florida.
Paul seems to have a hectic lifestyle travelling between Panama and Costa Rica now working for APM Terminals (Maersk).

Posted on forum 20 January 2012.